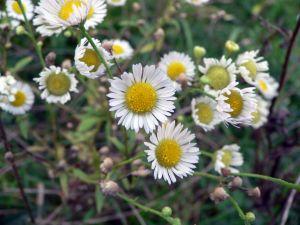 Most recipes for homemade herbal hair dye are easy to make, and there are several benefits to making your own hair products. Although most herbal dyes won't produce as brilliant a color as traditional, store-bought hair dye will, this is a great option for women who are concerned about the safety of traditional hair dyes.
Recipes for Herbal Hair Dyes
When you're ready to try making your own hair dye, it helps to have some tried and true recipes. The following are popular.
Chamomile and Calendula Rinse for Blonds
A weekly rinse with chamomile and calendula can brighten dull blond locks and stop any extra dark streaks caused by UV exposure.
Ingredients
1/2 cup fresh or dried chamomile flowers
1/2 cup fresh or dried calendula
1 quart of water
Method
Bring the water to a boil on the stove in a non-aluminum pan.
Add the chamomile and calendula and remove the water from the stove.
Allow the herbs to steep for 30 minutes, then strain out the liquid.
Allow the infused water to cool completely. You can store this in a refrigerated jar for future use for up to one week.
Wash your hair like you normally would, then towel dry.
Pour or spray the water onto your hair. Leave it on for 15 - 30 minutes before rinsing, or skip rinsing and style as usual.
You can try other yellow flowered herbs as well, such as saffron or turmeric. If you have very long hair, use a full cup of flowers in your mixture.
Sage and Rosemary Rinse for Brunettes
Sage and rosemary can significantly darken hair when used several times a month. They can also bring out natural highlights and some red tones in the hair.
Ingredients
2 cups fresh or dried sage
1-1/2 cups fresh or dried rosemary
1 tablespoon apple cider vinegar
Enough water to cover
Method
Place the herbs in a large, non-aluminum pan and cover with water.
Bring the water to a boil and reduce the heat to a simmer.
Simmer for approximately six hours, checking frequently to ensure the water does not boil away. Add more water as needed.
Strain and allow the mixture to cool.
Add the apple cider vinegar and mix well.
After shampooing, rinse the hair in the sage and rosemary rinse and style as usual.
Walnut Rinse for Brunettes
Walnut hulls are an extremely effective way to darken hair (and everything else). Always wear gloves when working with walnut hulls.
Ingredients
2 tablespoons crushed black walnut hulls
3 cups of water
Tea ball or muslin tea bag
Method
Place the crushed black walnut hulls in the tea ball or bag and steep in 3 cups of boiling water overnight.
Shampoo your hair as usual and rinse hair 10 to 15 times in the walnut mixture.
Style as usual.
Black Tea Rinse to Darken Any Shade
Black tea will give a subtle and temporary darkening to your hair, no matter what it's starting color.
Ingredients
3 heaping tablespoons of loose black tea leaves
3 cups boiling water
Method
Steep the black tea leaves in the boiling water for approximately 30 minutes.
Shampoo your hair as usual and pour the black tea mixture over your hair 15 to 20 times.
Leave the final rinse of black tea on your hair for 10 minutes, then rinse with clean, warm water.
Style as usual.
Henna Powder for Red Hair
Henna powder can be used for brunettes and for people with red hair. Henna is a very in depth topic; research it more before attempting to make your own mix.
Henna can add light or dark highlights to both red and brown hair. Try this method for a subtle, red/gold color.
Ingredients
200 grams of henna powder
2 cups lemon juice
Saran wrap
Method
Mix together the henna and lemon juice in a non-metal bowl.
Allow the mixture to sit for four to six hours until it thickness slightly.
Apply the mixture to your hair and comb through evenly.
Pile your hair on your head and wrap in saran wrap.
Allow it to sit undisturbed for two to three hours, then rinse out.
Pros of Making Homemade Herbal Hair Dye
There are lots of great reasons to make your own hair dye:
There are no preservatives or harsh chemicals in homemade herbal hair dye.
You can play with the color range more than you can with chemical dyes. While it's not advised to mix boxed hair dyes, making your own herbal dye allows you to experiment with a large color and hue range to find the perfect shade.
With the addition of essential oils, juices and other natural ingredients, you can customize your dye for dry hair, curly hair, blond hair, gray hair and more.
Fragrant herbs smell nicer than store bought dyes.
You can grow your own herbs or easily locate affordable herbs, so homemade dyes can be cost effective.
Homemade dye is better for the earth. There won't be hair dye chemicals washing down the drain and into the water supply, and homemade dyes take less energy to make.
Cons of Making Herbal Hair Dye
Before you begin experimenting with herbal dyes, you should be aware of these potential drawbacks:
Making your own hair dye can be time intensive.
If you don't grow your own herbs, and have oils on hand, it may cost you more to start making your own dyes.
You rarely get vibrant color. You can get noticeable colors, but anything outside the realm of natural usually won't occur. What homemade herbal hair colors are best at is bringing out your own natural color, not necessarily changing the color immensely. If you want shocking red, an off shade like blue or hot pink or a burgundy shade, you'll have to go with store-bought hair dye.
Safety of Making Your Own Hair Dye
Just because a product is natural or herbal does not make it absolutely safe. Be sure to do a test before leaving any sort of dye on your head for a long period. To do a basic allergy test, swab a bit of hair dye mix on your inner lower arm. Wait a day. If you have burning, itching or any other reaction, don't put the mix on your head.
Add Some Color and Shine
While these herbal dyes may not dramatically change the color of your hair, they may leave it shinier and in better condition than chemical treatments. Give herbal dyes a try before you reach for the chemical bottle; you may be pleasantly surprised by the outcome. If these herbal variations are not enough of a change for you, your next step before heading to the market is to try a non-herbal homemade hair dye.