Best Natural Chewing Gums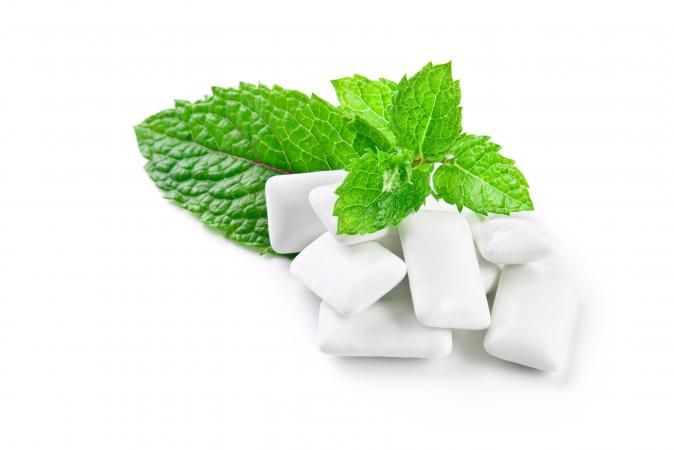 There are a number of chewing gums available that claim to be "natural." Some are, and some are not so natural. The best of the best are the truly "clean," non-chemical gums.
Train Gum
According to Prevention, this gum tops the list of the cleanest chewing gums. With only five ingredients, it's easy to see why.
Ingredients
Ingredients for this gum include chicle, which is the sap of a sapodilla tree that was once used to produce gum before chemicals stepped in and took over; simple syrup (sugar and water); rice flour; and natural oils for flavor. A few websites also list stevia as an ingredient. Sam Singer, who just happens to have invented the gum, responded to an email inquiry saying, "We no longer use stevia in our gum."
Flavors
Mint, grapefruit, cinnamon, and lime are the delicious flavors that Train gum produces. Best of all, this gum comes in a reusable muslin bag for those that want to be truly earth-friendly.
Buying
Train gum is available online for $2.50 per bag. The website also lists a number of locations to buy train gum in five states, so unless you live near where it is sold in stores, online is your best option.
Why It's the Best
Being a relative newcomer to the market, Train has not been in the media much. It makes the "best" list because of its commitment to natural ingredients. It is considered an artisanal gum. It is all-natural and has a couple of extremely positive reviews from Paleo Princess, who loves the use of all-natural ingredients, and Gluten Free Boston and Beyond, who enjoys the subtle peppermint flavor.
Health Benefits
Train gum has many of the same benefits of all chewing gums. The biggest surprise is the one most people don't know about. Chewing gum increases cognitive function. That's right, chewing gum helps your brain work and improves your memory. According to a study by The University of St Lawrence "Participants who chewed gum prior to completing the battery performed significantly better (p < .05) than controls on measures of recall."
There is evidence chewing gum can be beneficial in GERD, and The American Dental Association acknowledges chewing gum increases saliva, which neutralizes the acid that can damage teeth.
Pros and Cons
As a natural chewing gum that is totally chemical-free, Train gum doesn't hold its flavor as well as the chemically flavored gums available.
Glee Gum
Glee gum is a natural chewing gum that is readily available from natural food stores, pharmacies, and online. Glee is a fun line that also sells make your own gum kits.
Ingredients
Glee comes in sugared and sugar-free varieties. The gum base is chicle, calcium carbonate (a common organic mineral), candelilla wax (for moisture), and citrus peel. Sweeteners are cane sugar or xylitol (a sugar alcohol), and colors are made from natural ingredients like beets.
Flavors
Mint, lemon lime, mixed berry, cinnamon, tangerine, bubble gum, spearmint and wild watermelon are the impressive flavor line Glee has created.
Why It's Best
Glee gum signed a deal for European distribution in 2011. Verve Inc, the makers of Glee won the US Small Business Administration (SBA) award for Rhode Island Woman-Owned Small Business of the Year in 2015. Glee also won the People and Planet Award in 2014.
Buying
Buy Glee online. Costs run from $12 for a box of 12 packs, $13 for a tube of 400 pieces, and they even sell an old fashioned gum dispenser with a pound of gum for about $30.
Pros and Cons
The reviews on Well.ca are mainly good. The outstanding issue is that the flavor fades. The Amazon.com reviews are also fairly good with the major complaint being the flavor fades. However, this is true of all naturally flavored gums.
Chicza Gum
Chicza is a truly earth friendly gum. The sticky leftover mess and residue are a thing of the past. Chicza gum is biodegradable and dissolves to dust within a week or so after chewing. It even improves the quality of your compost
Ingredients
This is another of the really clean gums with only five ingredients. Organic evaporated cane syrup (sugar), organic gum base (100% chicle), organic glucose (another form of sugar), organic agave syrup (a fructose sweetener), and organic flavor are the five ingredients in this gum.
Flavors
Chicza gum has simple flavors, including mint, cinnamon, mixed berry, and lime.
Buying
You can purchase Chicza for $1.99 per pack online. It is also available online from Amazon.com, which describes the gum as "The first ever organic, aspartame-free, sustainable and fully biodegradable chewing gum! Chicza comes from the earth, and returns to the earth." Amazon sells this gum for about $14 for two packages.
Why It's Best
The folks at Food Executive call it the "King of chewing gum," and Amazon reviewers give it four out of five stars. This is also a really earth-friendly product, which bumps it up towards the top of the list.
Health Benefits
Chicza has the same health benefits as other natural gums. Along with being natural, organic, and biodegradable, some benefits will be derived from the flavoring. Mint and cinnamon in particular help you digest your food so you can avoid indigestion and gas.
Pros and Cons
The online reviews from Amazon are positive, but some say the flavor fades quickly. Others say the flavor lasts. The biggest complaint is the $7 per pack cost on Amazon.
Simply Gum
Simply Gum is another of the biodegradable gums. This allows them to disintegrate within a short period after being discarded.
Ingredients
Simply natural ingredients put this gum on the list. Chicle, candelilla wax, citric acid, organic raw cane sugar, organic vegetable glycerin (for moisture), organic rice flour, and natural flavors make up the ingredient list.
Flavors
The flavors are interesting, and a few are unique. Flavors include mint, cinnamon, licorice, maple, ginger, and coffee
Buying
Simply Gum gained cross US distribution in the early part of 2016 according to Confectionery News. Available online from the Simply Gum website at $16 for multi packs, it is also available on Amazon for $16 for six packs.
Why It's Best
Simply Gum participated in the Fancy Food Show for the first time in 2015. It is on the list of the cleanest gums from Prevention.
Health Benefits
Candelilla wax is an ingredient most commonly used in cosmetics. It is used in gum to retain moisture and will keep your mouth moist. Saliva neutralizes acid damage to teeth, so candelilla wax will help.
Pros and Cons
A reasonably unbiased review on Hopson Review notes some of the flavors are nice, and some aren't. The reviewer liked the chew but complained the flavor lasted for only five minutes. They did give it a recommendation though.
Peelu Gum
Peelu gum makes it on the list as the only gum made from the fibers of the peelu tree, which are commonly used in dental chewing sticks.
Ingredients
This gum has simple ingredients, but the manufacturer provides no information on the gum base. Ingredients include isomalt (beet sugar), gum base, xylitol (a sugar alcohol), natural peppermint flavor, calcium stearate (a sufectant), rebaudioside A ( a natural sweetener from stevia leaf), peelu fiber, and carnauba wax.
Flavors
Peelu comes in spearmint, cinnamon, peppermint, and citrus flavors.
Buying
The gum is available from Vitacost for about $8 for 100 pieces, while Amazon is charging $11.
Why It's Best
Peelu is the only gum to include fibers from the peelu tree. The health benefits from this put it on the list and make it well worth trying.
Health Benefits
This gum derives its benefits from two ingredients: peelu and xylitol.
Peelu is extremely effective in maintaining oral health according to the NIH article from the European Journal of Dentistry. Peelu sticks have been used as toothbrushes for centuries. Antimicrobial, antiseptic, analgesic, and anticarcinogenic are just some of the benefits of peelu according to the study.
Xylitol reduces cavities, fights bacteria that causes plaque, and is tolerated by the body as a sweetener.
Pros and Cons
Most reviews on Vitacost are positive with the usual flavor fades caveat. One reviewer noted a new formula made the taste last longer. Another reviewer checked on a claim that the xylitol used to sweeten the gum was made from GMO corn cobs. The company told them it was non-GMO.
PUR Gum
Swiss-made PUR was a major hit on Dragons Den in 2014. The company received one million dollars, which is one of the largest amounts ever given on the show.
Ingredients
PUR contains six ingredients: xylitol, gum base, gum arabic, natural flavors, carnauba wax, and tocopherols. Tocopherols are vitamin E compounds found naturally in vegetable oils, nuts, fish, and leafy green vegetables. Here, they are used as a preservative.
Flavors
PUR flavors include all the mints like peppermint, spearmint, and wintergreen, as well as a flavor called cool mint. Other flavors are bubble gum, pomegranate mint, chocolate mint, and cinnamon.
Buying
PUR is available in most pharmacies, natural health stores, and online. The company sells the gum in a number of different configurations from a single pack at $1.69 to the $60 14 bag pack
Why It's Best
Viva magazine awarded PUR the Consumer Trust Award in 2015. Likewise, Blue Quill Dental Centre in Alberta, Canada did a trial on PUR and gave it a positive review.
Health Benefits
The gum contains xylitol, which can be helpful for fighting cavities. It's also a vegan gum, and it is gluten, sugar, nut, GMO, and soy-free.
Pros and Cons
Melanie White at DownsizeMe gives PUR 3.5 stars out of 5. Her only complaint seems to be the flavor fades.
Natural Chewing Gum
Natural chewing gums are not new to the market. There are new companies appearing all the time. All the companies are diligently working to improve their products. With the cognitive function, oral health, and digestion benefits, it may be time to give natural chewing gum a try.