3 Herbal Detoxification Remedies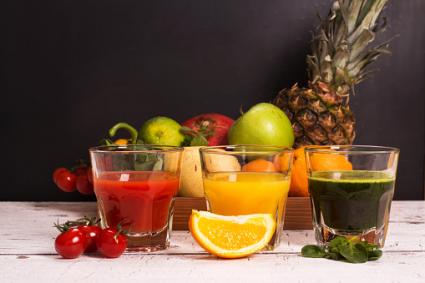 Detoxification is an ancient practice seeing a resurgence today. Advocates say ridding the body of excess toxins helps you fight disease, maintain a healthy weight, and feel better. While experts disagree on whether a detox cleanse is necessary, safe, or effective, many people have reported increased energy, improved mood, and other positive results after following a detox regimen.
Using Detox Remedies
The human body naturally detoxes itself. The liver, kidneys, and colon flush out impurities every day. However, by supporting these organs with herbs, fruits, and other vitamin- and mineral-rich ingredients, you may be able to improve overall health and disrupt unhealthy eating habits.
You can easily make detox remedies at home any time you're looking for a boost. For the best possible results, use only organic ingredients and wash all herbs, fruits, and vegetables thoroughly.
1. Cucumber Basil Lemon Water
This light, refreshing drink combines three of the most powerful health-boosting ingredients the natural world has to offer. It's the perfect remedy for beginning a cleanse or boosting your immune system any time.
Benefits
Cucumber is hydrating and full of many essential minerals the body needs to function, while the benefits of lemons have been touted for centuries. Lemon is a great source of vitamin C, potassium, magnesium, and copper, and many consider it a blood purifier.
Beyond complementing the lemon and adding unique flavor to the beverage, basil is a key detox ingredient. It's chock full of antioxidants, the most notable of which are terpenoids. Terpenoids help detox by improving kidney and immune system function.
Make this water to start your day hydrated and give your immune system a boost.
Ingredients
3 to 4 large, fresh basil leaves
The juice of 1/2 a large cucumber (alternative: 1/2 a cucumber, sliced)
The juice of 1/2 a lemon
Ice
Purified water
Instructions
Muddle the basil leaves in the bottom of a glass.
Add the lemon and cucumber juice (or slices) and stir well.
Add ice and enjoy, then eat the basil and cucumber, if sliced.
2. Superfood Green Smoothie
This smoothie is full of fiber and a variety of vitamins and minerals, giving your body extra help in fighting disease, burning calories, and even relieving hangovers. The addition of apple and pineapple add vitamin C and a natural sweetness to this veggie-rich smoothie. This remedy is perfect for maintaining a healthy weight and resisting illness and infections.
Benefits
Celery, kale, and cucumber are all known for containing powerful antioxidants and a broad range of essential minerals. Celery is also theoretically a negative calorie food, meaning it could provide fewer calories than it requires to digest, making it a great addition to any healthy weight-loss plan.
Spirulina, popularly touted as a "superfood" for containing so many beneficial nutrients, supports the immune system by stimulating the creation of antibodies. You can find spirulina online or at health food stores in powder form. Follow the serving size recommendations on the package (typically a teaspoon) and blend it into smoothies or stir it into water or juice.
Ingredients
1 medium celery stalk, chopped
2 large leaves of kale, de-stemmed and chopped
1 medium apple, any variety, cored and chopped
1/2 cucumber, sliced
1/2 teaspoon of freshly grated ginger
1 teaspoon of spirulina
1 cup frozen diced pineapple
A blender
Purified water
Instructions
Combine all ingredients in a blender. Cover them with water and blend thoroughly. Serve immediately.
3. Honey Mint Cranberry Juice
With one of the highest concentrations of antioxidants of any food, mint is a wonderful addition to any detox beverage. Combine it with the health properties of cranberries, and you can't beat this juice remedy. Make this juice any time you want to enhance your bladder's detoxifying functions, combat seasonal allergies, or kick your immune system up a notch.
Benefits
Since bees make honey out of flower pollen, advocates claim raw, local honey has seasonal allergy-fighting powers. While these sentiments are unsubstantiated, studies have proven honey has anti-inflammatory and cough-suppressing properties. So, the next time allergies are threatening your day, a tablespoon of honey may not fight their cause but can calm symptoms.
Cranberries have a high concentration of antioxidants and have long been known to support bladder health by helping to prevent urinary tract infections (UTI).
Ingredients
1 bunch of fresh mint leaves
Ice
All-natural cranberry juice (no added sugar or preservatives)
1.5 teaspoons raw, local honey
Instructions
Muddle the mint leaves in the bottom of a glass. Add the ice.
Fill another glass with the cranberry juice and stir in the honey until it is dissolved.
Pour the honey-sweetened cranberry juice over the ice and mint leaves.
Stir well and enjoy.
Start Summer Right
By concocting these healthy herbal remedies, you are taking an important step in ensuring your body's effective detoxification and immune system functions. They're also the perfect summer refreshments for any backyard get-together! Before you consume any herbal remedies, be sure to consult a doctor, as some natural ingredients are not recommended for those with certain chronic diseases, or for people on certain medications.